Since our conception 10 years ago we have continuously championed producing exceptional tea and coffee that is sustainably sourced, produced and packaged right here in Cornwall. So exactly how do we achieve this? 
PLASTIC FREE
Why is choosing plastic free tea bags so important?
By not choosing plastic free tea bags you are exposing each mug of tea you drink to 11.5 million micro plastics. Yep really that much! Our Smugglers Brew and Fusions are 100% plastic free, from the product all the way to the box!
Smugglers Brew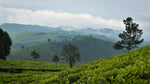 Sourcing our products
All of our raw products are responsibly sourced whether this is from Guatemala, Zimbabwe, Kenya or elsewhere. We are proud to say that some of our products (our ground coffees) are Rainforest Alliance or Ethical Trade Initiative Certified. When the raw product (coffee beans and tea leaves) are delivered to Cornwall it is done so in one yearly drop which helps us reduce the need for extra travel, this also means we keep a conistent quality. 
Learn more about the Rainforest Alliance here.
Rainforsest alliance ground COffee
the future
We're always looking for ways to improve our sustainability and make steps to help our future generations. We are pushing our suppliers to improve their output and help us to develop new ways to continue to be plastic free and even more sustainable.
Some of our products will state how to best recycle them. If you haven't got one of our new boxes, please refer to your local council for the best way to responsibly recycle.
You can find more information here.